Sherman named JCDC board chairman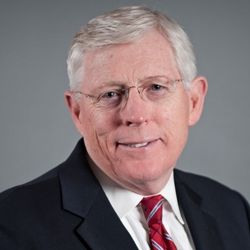 Pat Sherman has been named Chairman of the Johnson County Development Corporation Executive Committee.
Sherman is Founding Partner and Certified Public Accountant with Sherman & Armbruster LLP in Greenwood, Indiana. He succeeds Greg Taylor, who stepped down after accepting a new position with Eli Lilly in Indianapolis. Sherman was most recently Vice Chairman of JCDC and has served many years as a board member of the local economic development organization.
"We are poised in our public-private partnership to achieve even greater economic growth in Johnson County. I am pleased to be part of our board leadership team," Sherman said.
Sherman currently serves on the Board of Directors and chairs the Audit Committee of First Merchants Bank. He also serves on the boards of First Merchants Charitable Foundation, Washington Jefferson Williams Foundation, Center Grove Trails, Inc., and the Baxter YMCA. He is past president of the Greenwood Board of Aviation Commissioners and is Controller for the Johnson County Solid Waste Management District. He is a member (and past president) of the Greenwood Rotary Club and member (and past board member) of the Greenwood Chamber of Commerce.
Also elected to the JCDC Executive Committee were:
Vice Chairman: Jeffrey Owen, President, J Owen Media LLC;
Secretary-Treasurer: John Ditmars, Senior Vice President, First Merchants Bank;
Chairman Emeritus: Larry Heydon, President and CEO, Johnson Memorial Health;
At Large Member: Scott Langdon, President, Langdon Real Estate Services.
The Johnson County Development Corporation (JCDC) is a non-profit private/public partnership providing economic development services for companies throughout Johnson County, Indiana.
JCDC works closely with site selectors and local companies by providing comprehensive research and demographic information, coordinating between the state and the business for economic incentives and meeting the unique needs of each community within the county.