Paulson Selected for Emerging Leader Award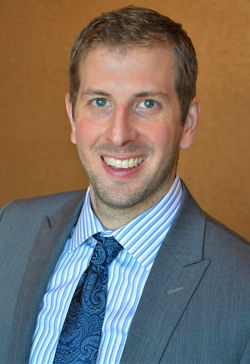 GREENWOOD, IN – Joe Paulson, CPA and Partner with Sherman & Armbruster LLP, has been named an Indiana CPA Society Emerging Leader Award recipient.
The annual Indiana CPA Society Awards recognize CPAs who have demonstrated excellence in serving the profession, company, community and public interest.
The Emerging Leaders Award was established in 2001 to recognize up-and-coming leaders in the profession. Each recipient must demonstrate leadership and initiative; have made significant contributions to their employer's success; and be age 34 years or younger.
Paulson joined the Greenwood accounting firm in July 2014 and became a partner in 2017. He specializes in partnerships, S-Corporations, C-Corporations, individual taxes and multi-state taxation covering various industries and business groups. A 2006 graduate of Whiteland Community High School, Paulson earned a Bachelor's Degree in Accounting and Sports Management with summa cum laude honors from Taylor University in 2010.
He is a Certified Public Accountant and a member of the American Institute of Certified Public Accountants (AICPA) and the Indiana CPA Society. Paulson lives in Wannamaker with his wife, Amy, daughter, Dorothy, and son, Brian.
"We are extraordinarily proud of Joe's recognition," said Patrick A. Sherman, CPA and Founding Partner of Sherman & Armbruster LLP. "Joe provides extraordinary service to our clients and has been an essential part of our firm's growth."
"CPAs are often the ones working behind-the-scenes to make their companies and clients more successful," said INCPAS President & CEO Jennifer Briggs, CAE. "We appreciate the colleagues who noticed and nominated these members who have made truly exceptional contributions to the profession."
Winners for all award categories will be honored at the CPA Celebration on May 11 at the Indiana Roof Ballroom.
Sherman & Armbruster was founded in 1983 and provides a diverse line of services that help individuals, small businesses, large companies and local governments navigate the complexities of tax regulations and fiduciary responsibilities. The firm also provides business consulting and support services and helps local governments with complex financial projects.