Clients rely on professional, welcoming service from staff
Our clients get the best of both worlds when they walk into our office at Sherman & Armbruster -- formal, high level professional service in an informal, welcoming environment.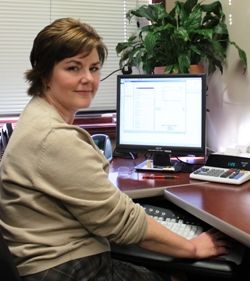 Our qualifications are absolute and our experience
diverse -- even more than a large metropolitan or national accounting firm.
Besides meeting the highest standards of accounting practices, we also have experience in business development, government regulations and strategic financial planning. Our employees receive ongoing training on the latest tax regulations and certification processes.
Yet, our clients also benefit from our customer-friendly atmosphere that is part of our Hoosier values and culture. Most of our employees have been with us for several years. They know our clients by their first names and know their families -- not just their financial goals.
Upon arrival to our office, our clients are offered coffee
or a soft drink and an opportunity to sit in a comfortable room to talk about their needs.
We also regularly keep in touch through our Accountable Direction email newsletter and our Facebook page. Of course, clients are welcome to stop in the office or to give us a call.