New Partner Named at Sherman & Armbruster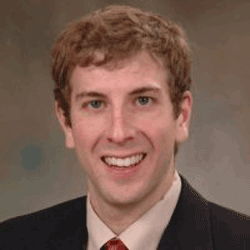 GREENWOOD, IN - Joe Paulson, CPA, has been named Partner of Sherman & Armbruster LLP.
Paulson, who joined the Greenwood accounting firm in July 2014, specializes in partnerships, S-Corporations, C-Corporations, individual taxes and multi-state taxation covering various industries and business groups.
"Joe has become a valued part of our team. Our clients have come to appreciate his extensive knowledge of today's complex accounting landscape," said Patrick A. Sherman, CPA and Founding Partner.
A 2006 graduate of Whiteland Community High School, he earned Bachelor's Degree in Accounting and Sports Management with summa cum laude honors from Taylor University in 2010.
He is a Certified Public Accountant and a member of the American Institute of Certified Public Accountants (AICPA) and the Indiana CPA Society. Paulson lives in Wannamaker with his wife, Amy, and daughter, Dorothy.
Aside from accounting, Paulson has extensive experience in the music industry. He has recorded various projects in Nashville, Tennessee. He also has performed with nationally touring musicians – including Jon McLaughlin, Green River Ordinance, Sixpence None the Richer, Andrew Belle and Phil Wickham. He is a member of Broadcast Music, Inc.
"I have known Joe since childhood, being long-time friends with his Mom and Dad. Joe is both an accomplished musician and accountant; an unusual combination," said John Grant, CPA and Sherman & Armbruster Partner. "Joe's technical skills are well developed and he is a valuable, permanent addition to the tax side of our practice. More particularly, Joe is a good person who is a perfect fit for our current clients and the future development of our firm."
Sherman & Armbruster was founded in 1983 and provides a diverse line of services that help individuals, small businesses, large companies and local governments navigate the complexities of tax regulations and fiduciary responsibilities. The firm also provides business consulting and support services and helps local governments with complex financial projects.