IRS Forms 1099-Misc deadline now January 31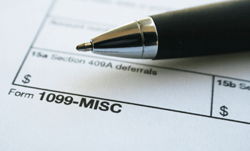 If you own or operate a business that issues IRS Forms 1099-MISC or if you are supposed to receive them, you need to be aware of an upcoming deadline change.
Beginning this year for 2016 payments, the Internal Revenue Service has moved up the filing date for Forms 1099-MISC reporting non-employee compensation in box 7 to January 31. This deadline is now the same as the due date for the forms to be issued to recipients.
This deadline applies regardless of whether the forms are filed electronically or on paper, according to the IRS. In the past, filers had an extra month or two after issuing the forms to recipients.
The IRS notes, though, that the filing dates remain unchanged for Forms 1099-MISC that do not report in box 7.
A Form 1099-Misc should be filed for each person to whom you have paid during the year at least $10 in royalties or broker payments in lieu of dividends or tax-exempt interest; or at least $600 in:
rents

services performed by someone who is not your employee

prizes and awards

other income payments

medical and health care payments

crop insurance proceeds

cash payments for fish (or other aquatic life) you purchase from anyone engaged in the trade or business of catching fish

generally, the cash paid from a notional principal contract to an individual, partnership, or estate

payments to an attorney

any fishing boat proceeds

In addition, use this form to report that you made direct sales of at least $5,000 of consumer products to a buyer for resale anywhere other than a permanent retail establishment.
A complete list of deadlines regarding employment tax is available on the IRS website.