Reliability, trust at the center of our partnership with clients
For the past 30 years, people in Johnson County and on the Indianapolis Southside have relied on the expertise and experience of Sherman & Armbruster for their accounting and financial needs.
When founding the firm in 1983, partners Pat Sherman and Marty Armbruster believed that reliability and trust were essential elements to their success. Those principles are still embedded in the firm's culture today.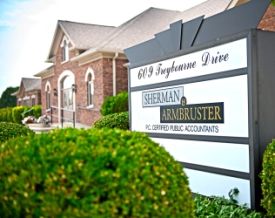 Marty first approached Pat in 1982 to discuss an accounting firm partnership. Marty had worked for a regional CPA firm and was serving as the controller of a Southside construction products company.
Pat had been involved in law enforcement but finished an accounting degree and wanted to start a firm.
They began helping clients with individual tax returns, business support services and other accounting needs.
In 1985, they added wealth planning and investment management to their practice.
John Grant joined the firm in 1992 as a partner, reentering public practice after 10 years in private industry. He brought a strong background in management consulting and a technical background.
Angela Coy started working for Sherman & Armbruster in 1996 while attending Franklin College.
She joined the company fulltime in 1997 as an accountant and was made partner in 2010.
The Sherman & Armbruster Group also includes Treybourne Wealth Planners. This part of the firm has offered investment and financial planning services since 1985.
Stephanie Willison, who also once worked as an intern at the firm, became a partner in 2010 of Treybourne Wealth Planners. She had previously worked for two investment management companies.
Today, Sherman & Armbruster continues to serve as a diverse resource for clients -- whether it be preparing personal tax returns, handling business payroll, installing accounting software, assisting local government financing projects or preparing for retirement.
The firm takes pride not only in our work, but in our community. We support many local causes, and our employees volunteer many hours to non-profit endeavors.